Most what-kind-of-X-are-you quizzes are superficial jokes. I just found one that seems better constructed than the average, and as an old-time D&D fan I couldn't resist it. Here's the paste from my results, with a link:
---
I Am A: Neutral Good Human Wizard (7th Level)
Ability Scores:
Strength-14
Dexterity-10
Constitution-16
Intelligence-15
Wisdom-14
Charisma-15
Alignment:
Neutral Good A neutral good character does the best that a good person can do. He is devoted to helping others. He works with kings and magistrates but does not feel beholden to them. Neutral good is the best alignment you can be because it means doing what is good without bias for or against order. However, neutral good can be a dangerous alignment because it advances mediocrity by limiting the actions of the truly capable.
Race:
Humans are the most adaptable of the common races. Short generations and a penchant for migration and conquest have made them physically diverse as well. Humans are often unorthodox in their dress, sporting unusual hairstyles, fanciful clothes, tattoos, and the like.
Class:
Wizards are arcane spellcasters who depend on intensive study to create their magic. To wizards, magic is not a talent but a difficult, rewarding art. When they are prepared for battle, wizards can use their spells to devastating effect. When caught by surprise, they are vulnerable. The wizard's strength is her spells, everything else is secondary. She learns new spells as she experiments and grows in experience, and she can also learn them from other wizards. In addition, over time a wizard learns to manipulate her spells so they go farther, work better, or are improved in some other way. A wizard can call a familiar- a small, magical, animal companion that serves her. With a high Intelligence, wizards are capable of casting very high levels of spells.
Find out What Kind of Dungeons and Dragons Character Would You Be?, courtesy of Easydamus (e-mail)
---
The stats seem pretty accurate on the whole, though I wonder which answers made them underestimate my Intelligence. And I've never been about limiting the actions of the truly capable.
And here are my results from another interesting quiz auditing for Asperger's Syndrome traits: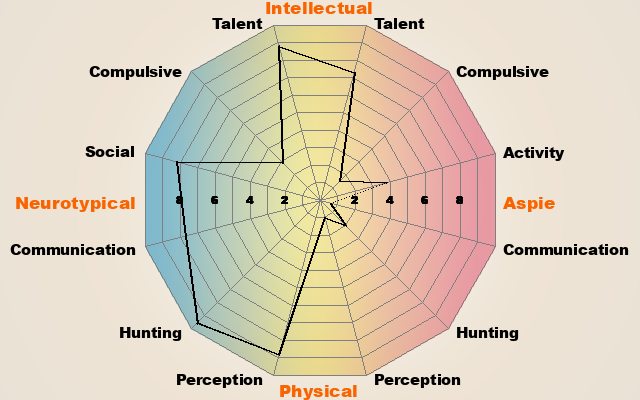 No surprise there, I already knew I wasn't an Asperger's Syndrome case; if anything, my neurological bent resembles subclinical Tourette's Syndrome. But here I come out as a neurotypical with a balance of intellectual and physical talents, which seems about right.